DTZ Research: Office Rental wave shows nine tenant-friendly markets
Publish date: 13-09-2012
DTZ, a UGL company, today launched a new Office Review report to assist corporate office occupiers in making (re)-location decisions. The report provides DTZ's analysis of major European office markets in H1 2012 and introduces the DTZ Rental Wave which allows occupiers to trace and compare movements in prime headline rents across different markets.
Karine Woodford, Global Head of Occupier Research, comments: "Our new DTZ Rental Wave identifies markets in different stages of the rental cycle according to rent changes in the last six months. Our analysis shows that now is a favourable time for tenants to re-negotiate existing leases in nine out of 34 European markets covered in this report. Tenants in these markets should also consider locking in longer than normal lease terms in order to avoid re-negotiation in the upward cycle stage."
Markets where tenants should be re-negotiating leases include Budapest and Prague, where rents have remained stable for the past two years. The German markets of Hamburg and Munich are similarly placed although Hamburg is a more volatile market and presents less predictable rental movements. The same is true of Barcelona and Dublin. By contrast, some major European markets including London and Moscow are displaying current or impending rental rises.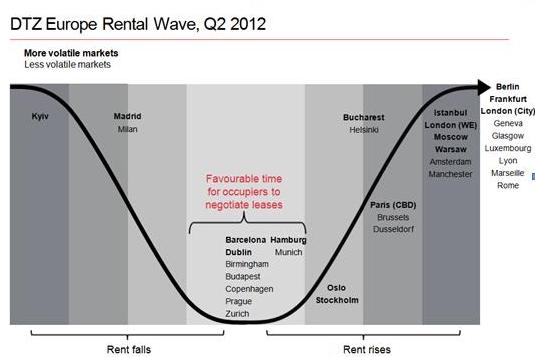 As a result of ongoing tension across the Eurozone and weak economic growth, overall corporate activity remained subdued across Europe in the first half of the year. Madrid, Milan and Kyiv recorded decreases in rents. However, solid economic growth pushed up rental values in the Nordic markets.
Karine continues: "As the more traditional European markets struggle to attract occupiers, the fast expanding emerging markets, such as Bucharest, are witnessing rent rises on the back of strong economic growth and robust occupier demand. Countries in CEE are forecast to see relatively solid GDP growth of 3.8% between 2012 and 2016."
"In CBD (Central Business District), the vacancy rate for A Class office buildings exceeds 90%, therefore it has been registered a slight increase of the rental level in this area and also in semi-central locations. As a result, for companies interested to lease large surfaces with immediate availability in the above mentioned areas, it will be harder than two years ago to find them. Considering that this area is very attractive and new office buildings deliveries are limited for the next 18 months, we usually advise our clients to try to secure their leases for a longer term than the standard one, considers Madalina Cojocaru, Head of Office Department at DTZ Echinox.
Looking forward, DTZ forecasts prime rents in Europe to increase by 1.6% per annum over the five-year forecast period, in line with the subdued GDP growth of 1.5%. Antwerp is expected to become the most affordable location for occupiers by 2016, followed by Budapest, Riga and Tallinn. London West End and Moscow, despite being the most expensive markets, will also be the highest growth markets between 2012 and 2016, with prime rents forecast to increase by 5.6% and 4.2% per annum respectively. The majority of this growth will occur towards the end of the forecast period.