Tomas Spurny begins mandate as BCR CEO
Publish date: 27-04-2012
National Bank also grants approval for appointments of Martin Skopek as VP Retail&Private banking, Sergiu Manea as VP Treasury, Capital Markets & Group Large Corporates and Christian Bruckner as VP Operations
The approval process for Bernd Mittermair as VP Financial is in the process of being finalized
Tomas Spurny (47) begins mandate as CEO of Banca Comerciala Romana (BCR), following approval by the National Bank of Romania (NBR). Mr. Spurny has been appointed at the helm of BCR earlier this year by the Supervisory Board of BCR, succeeding Dominic Bruynseels whose mandate came to end.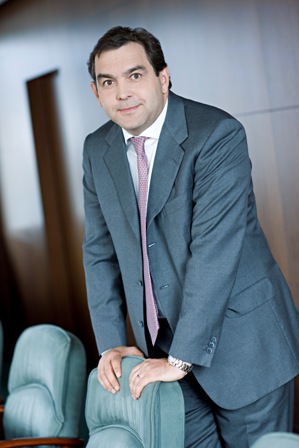 An internationally experienced banker, Tomas Spurny has been the CEO of several major financial and banking institutions in Slovakia, the Czech Republic and Hungary, contributing to their success on the local markets over the last ten years. Prior to his banking experience, Tomas Spurny had spent several years with management consultancy McKinsey & Company, advising financial institutions in number of CEE markets.
National Bank has also granted approval for appointments of Martin Skopek as Vice President Retail & Private banking and Sergiu Manea as Vice President, Treasury, Capital Markets & Group Large Corporates, both members of the Management Board. Christian Bruckner, since 2010 Chief Operating Officer and advisor to the Board, also received NBR approval to join the Management Board of BCR as Vice President Operations (COO).
The approval process for Bernd Mittermair as Vice President Financial (Chief Financial Officer) member of the Management Board is in the process of being finalized.
The other board members continuing their mandates are Michael Beitz, Vice President Risk (Chief Risk Officer) and Wolfgang Schoiswohl, Vice President Corporate Banking.
Martin Skopek takes over the position of Board Member responsible for Retail Business after having held this position also during 2006 - 2010 when he played a key-role in building up the bank's retail business. Skopek will continue to steer Erste Group retail activities and remains chairman of Erste group-wide retail board.
Sergiu Manea has over 15 years experience in financial markets, having worked for several international banks such as Citibank, ING, ABN Amro, Bank Austria Creditanstalt. Most recently he acted as managing partner of independent asset management and financial advisory services firm, Ithuba Capital, based in Vienna.
A graduate from the TGM institute in Vienna and the Financial Banking College at the Danube-University Krems, Christian Bruckner holds extensive experience in financial services, having occupied top management positions in the banking sector in Central and Eastern Europe.
Bernd Mittermair developed his career within Erste Group, holding various positions in Asset-Liability Management, Controlling and Performance Management. He is an expert in strategic, operational planning and budgeting process. He has been involved in all major due diligence processes of Erste Group since 1999.